You had a rough day, but now it's time to sit back, relax, and enjoy the simple things in life. Whether you prefer chicken fried and a cold beer or just some iced tea on the front porch, you want your porch to have a soothing farmhouse atmosphere. Use these Farmhouse Porch Ideas to create a relaxing country environment, or outfit your farm's porch to look like a classic country porch.
1) Plaid
When you think about the country, you probably see ranch hands and farmers in plaid shirts. Bring that plaid design to your porch to complement your country farmhouse theme. This checkered doormat from Amazon has that familiar plaid pattern, and it's handmade, adding to the authentic feel of it. The doormat is designed for use outdoors, and if it gets too dirty, you can throw it in the washing machine to keep it looking crisp and clean.
2) Dinner Bell
If you watch a lot of shows set on farms, you're probably familiar with the idea of a dinner bell. While you might not use one in your own house, they're a common farmhouse theme, and a neat, traditional thing to have on your farmhouse porch. This dinner bell from Amazon has an old-fashioned design, and you can mount it to your outside siding. Since it's made of cast iron and coated with a durable coating, it's both authentic and resistant to weather conditions that might hit your porch.
3) DIY Homemade Rustic Bench
One thing any porch will need is a comfortable bench to sit on. While you could get store-bought seats, they won't have the authentic rustic charm of something homemade. If you're not sure of your carpentry skills, follow this video by HomeMade in Lviv to learn how to make a rustic bench. The bench is made from logs rather than boards, adding to the rustic appeal, and it resembles something you might see on a frontier porch today or many years ago.
4) White
While you might think of rustic wood designs when you think of the country, an authentic farmhouse porch will likely have paint. Specifically, it'll have lots of white paint. Try painting your porch railings a bright outdoor white to resemble a traditional farmhouse. The new paint will make the whole porch more attractive, as well, and cause it to stand out. You can see in this picture that the white stands out against plants, and the effect will be stronger if you put a few hanging dark green plants around.
5) Hanging Planter
Farms are all about agriculture. While most of the plants will be out in the fields, most farmhouses have gardens and show their owners' appreciation of greenery and nature. Bring a little nature onto your porch with potted plants. A hanging planter like this will keep your porch floor clean, and make the plants a visible part of your decor. If you hang green plants in this black planter on a white porch, you'll create a contrast that will make them noticeable.
6) ​Checkers
If plaid is a common farmhouse theme, so are checkers. How many times have you watched folks play checkers on a front farmhouse porch in a movie? Checkered patterns are used for picnic cloths, farmers' clothes, and more. Instead of buying a plaid throw rug, include the checkered pattern in your whole porch theme by painting the floor with checkers. This is a somewhat unorthodox farmhouse idea that brings to mind country stores and playing games with the family.
7) ​​​​​Welcome Y'all
Farmhouse porches are welcoming places where neighbors come to sit a spell, and your family and friends can relax while kids play in the yard. If you like this image, regardless of what you use your porch for, you'll want to let everybody know they're welcome with a standard southern greeting: "Welcome Y'all." This sign from Walmart is patriotic, with the texas star on it, and a kind greeting for visitors. You can hang it on the porch wall, or on a gable end if you have one.
8) ​​Fence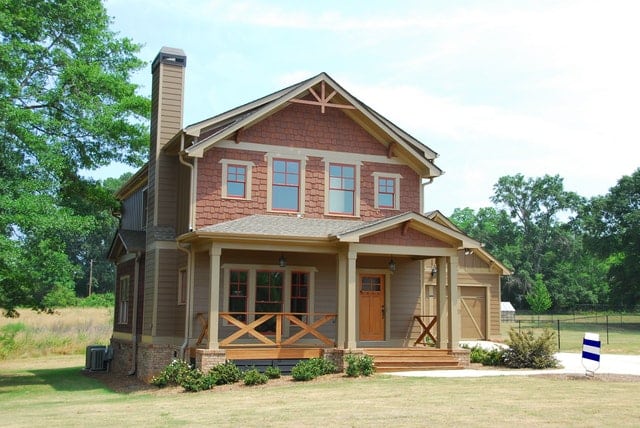 Fences are a common feature around farms. They're an important part of the industry, and you can incorporate them into your porch design. This idea is best for a farmhouse-themed porch, rather than an authentic-looking farmhouse porch. You can see in the picture that the builder designed the porch railing to look like a particular style of farmhouse fence. Farmers only used this style for a brief time, so if you have a specific era or style of fence in mind, try making your railings look like that type of fence.
9) ​​​​​​​Milk Can
Do you remember when the milkman came by to deliver milk to your house? It's a fond memory for many people, and it's certainly one that belongs on a farmhouse porch. This planter from Amazon is designed to look like an old milk can, but if you have an old one, you can use that, too! While this is designed as a planter, you can modify it or make it a stand-alone decoration Great uses for milk cans are planters, ashtrays, stools, or step decorations.
10) ​​​​​Candles and Firepit
Lighting is a big part of any decor, and porch decor is no exception. Instead of focusing on overhead lighting and getting the most lighting for your money, use traditional lighting sources, or modern lights that resemble traditional ones. In this picture, you can see that the decorator lit the area with a combination of a brazier, lanterns, and candles. For safety and wind resistance, you can use flameless candles. The effect on this porch is cozy and gives a feeling of warmth on what is probably a cool fall night.
11) Adirondack Chair
When you set up your porch decor, you'll want to incorporate every part of your porch into it. This means the ceiling, floor, furniture, paint color, and other decorations are all part of your theme. One way to do this is to get Adirondack chairs like these ones from Walmart. They're a comfortable porch chair, and you can get a rustic or wood finish to match your other furniture, These are reminiscent of a country store porch, creating a farmhouse look without looking unfinished or rough.
12) ​​​​Crates
Crates are a common fixture on farms. They're used for picking grains and vegetables from gardens, string gourds and decorations, and many other things. These rustic-looking nesting crates are an ideal way to add to a farmhouse look. You can use them to display fall or farmhouse decorations, or for storage on the porch. The nesting design means you can stack them when you're not using them, or you can put them in different locations around the porch. Having each crate in a different corner will help tie all your other decorations together.
13) ​​​​​DIY Welcome
Farmhouse porches are places to sit and relax with a friend or a neighbor or three, and you want people to know they're welcome. A welcome sign is probably the simplest do-it-yourself craft you could do for your porch, and it makes it clear that your porch is a comfortable space for visitors. In this article, Sarah from The Farmwife Crafts describes how she made a Welcome sign for her farmhouse, and you can see that the finished sign created a welcoming country look.
14) ​​​​Wood
While not all farmhouse porches have wood decor, that may be the best idea for yours. If you're not a fan of a white porch with knickknacks strewn about, try a rustic design with wood furniture. This works best on a wood porch, with weathered wood like the wood of the bench in this photo. In this image, the shutters and furniture were designed to match the wood porch, and even the items that aren't wood were made to look like it. Most farms have some concrete, but concrete matches a white farmhouse porch better than a rustic wood one.
15) ​​​​​​DIY Wagon Wheel Bench
It doesn't get much more country than wagon wheels. While country folk back in the day would walk for two days to town before they'd saddle up their horse and risk tiring it, the cart and horse were still a huge part of farm life. If you like wagon wheels and want them on your farmhouse porch, you can use these step-by-step instructions to make a wagon wheel bench. This project takes a little know-how, so read through and decide if it's at your skill level. Otherwise, you can always hire a contractor to build one.
16) ​​​​​Lantern Wall Sconce
In days gone by, farmers would've lit their houses with nothing but candles and candelabra, and used lanterns to guide them at night. If you want an old-fashioned farmhouse theme, you'll need some lanterns, or preferably light fixtures that look like lanterns. After all, there's no reason to give up the convenience of electricity, right? Try this wall-mounted light fixture from The Home Depot. It's designed for wet locations, so you don't have to worry about installing it on an open porch.
17) ​​​​Barn Star
Stars are a common farmhouse decoration, and with good reason. A 24-inch rustic star like this immediately brings to mind a country home, and the matte finish makes it look rustic while still being durable. You can put this on the roof's gable end if you have a gabled roof, or put it on the wall. The large size makes it great for a roof decoration, or for a central decoration on the house siding.
18) ​​​​​​​Wicker
Wicker like this is a traditional farmhouse material. Choose white or brown wicker furniture, depending on whether you have a rustic wood theme or white-painted porch. Nowadays, they have many waterproof wicker-like materials that won't get moldy and will hold up better than the traditional material, so you'll have to decide whether you want the authentic materials or the easy cleaning and durability of composite plastic. The plastics can be fairly realistic, with a shiny coat that resembles well-maintained wicker.
19) DIY Wooden Bucket
In addition to crates and baskets, farms use buckets a lot. While nowadays they use 5-gallon plastic buckets, there were times when they would've had simple wooden buckets. If you live in an area with a lot of tag sales, you can search for a bucket, but for the do-it-yourselfer, there's another option. In this youtube video, Fishers Shop gives detailed instructions to create your own wooden bucket. This makes a great flower pot or stand-alone decorations for your farmhouse porch.
20) ​​Welcome Sign
If a large vertical welcome sign doesn't seem right to you, but you still want to show your neighbors that they're welcome, a smaller sign like this one from Amazon may be best. Smaller signs have the advantage of fitting on doors and looking better on porch walls, while a taller sign may have to stand up and take up floor space. This sign also says, "Welcome to our Farm," adding to the farmhouse theme.
21) DIY Wind Chimes
Nothing says "country" or "farmhouse" like the sound of wind chimes. If you've already started on your farmhouse theme, you might have a small collection of antique or store-bought ones. In this article, William Gurstelle gives instructions for making your own wind chimes. Try experimenting with different materials to make different sounds for your wind chime collection. You can also buy chimes online, but try to stick with a rustic look to keep with the farmhouse theme.
22) ​​​​​​​Indoor/Outdoor Blanket
A farmhouse porch is a cozy place to sit and relax in the evenings or mornings, but evenings and early mornings can get cold. Instead of avoiding the space, put a couple of blankets out to keep it warm. Leaving a blanket outside may sound like a bad idea, but these blankets from Amazon are designed for use outdoors, so you can bring the blanket out, store it in a trunk, and then sit with it when you get cold in the evenings. Try a farmhouse design like the checkers on this blanket to match your decor.
23) ​​​​​​​DIY Barn Door
Barn doors are a neat way to make any area look more rustic, and immediately create a farmhouse look, but they can be expensive. In this video, DIYers from The Rehab Life show you how to build a barn door for only $40. This works great for a screened porch entrance, or you can get hardware that's designed for an exterior door, and use it as your house's door. If you're using it as the main door into your house, talk to an expert about making sure it's well-insulated.
24) Farmhouse Wall Sconces
Porch ceilings can be difficult when it comes to lighting. They're often slanted, so flush and semi-flush mount fixtures don't work. Chandeliers hang awkwardly, but small pendant lights aren't enough. Sconces are a good alternative to ceiling lights on a porch since you usually don't need bright overhead lighting. Try getting farmhouse-themed sconces like these ones from Amazon. They work best for small porches, as they can light the walkway to the door, and a small area around it.
25) ​​Rough Wood
If you have a rustic wood porch, but nicely-stained furniture doesn't look right, it might not be rustic enough. Try building or buying furniture like the table, bench, and stool in this picture. They look handmade, with rough, unfinished wood. For a farmhouse look, instead of a log cabin look, you'll want to stain any furniture you get, but the most important thing is to get rough logs and thicker boards, instead of buying 2×6 boards. Even larger boards can add to the farmhouse look, as 2x12s and 2x10s used to be more common in construction.
26) Plenty of Greenery
How do you make a porch that says, "We just finished today's chores. Relax and sit a spell with us?" While white and rustic themes are common, you can also create a warmer farmhouse theme. One way to do this is with colorful plants and greenery, like the greenery on the porch in this photograph. While the photo isn't of a farmhouse porch, you can see that the greenery makes the porch feel warm and inviting. The eclectic choice of planters adds to the effect, so don't be afraid to shop around for a variety of vintage and antique planters.
27) ​​​Wood Beam Chandelier
Chandeliers can be tricky on a slanted porch roof, but they're not impossible. One way to deal with a slanted porch roof is to install a long, thin chandelier that runs perpendicular to the slope of the ceiling. For a farmhouse chandelier, you can build one out of a wooden beam, if you have lumber lying around. If you buy the wood new, you'll want to stain or paint it or let it weather before making your chandelier. Use this tutorial to make your own beam chandelier, making sure to get outdoor hardware and lighting that can withstand moisture.
28) ​DIY Pallet Wood Letter
Pallet wood crafts are popular now, and farmhouse crafts are no exception. In fact, pallet wood is ideal for farmhouse crafts since it already looks weathered and rustic, like old barn wood. If you have some old pallets to take apart, you can turn them into letters using these instructions by Karianna from Thistlewood Farms. If you like the idea, but don't have pallets, try using other scrap wood or sticks for a more natural or even more weathered look. These letters are great porch step or gable end decorations.
29) ​Porch Swing
A porch swing is one of the most charming country porch ideas. When a farmer finished a long day of work, swinging back and forth in one of these seats can be soothing and relaxing, just like it'll be for you. How many movies have you watched that had at least one scene where the characters are in a farmhouse porch swing? If you haven't seen that movie, you can now. This particular porch swing from Amazon is metal with a Fleur-de-lis design, and it'll go well on a white painted farmhouse porch with other metal decorations.
30) ​​​Rocking Chair
Rocking chairs are perhaps the most typical farmhouse stereotype. Farmhouses on TV have rocking chairs on the porches, in the living room, and often in at least one bedroom. As it happens, real farms have rocking chairs, too. They're just so comfy, how could one resist them? Try getting a couple of ladderback rocking chairs like this one from Walmart. This chair is made from lightly stained wood that will fit most rustic or wood farmhouse themes, and it's designed for heavy outdoor use.
31) ​​​​​​Bright Colors
When you design a welcoming farmhouse porch, you might have a welcome sign and some big chairs for folks to rest in, but your decorations will also affect whether the area feels warm and welcoming. Add brighter decor like this red plaid throw blanket to make the area more cheerful and inviting. You can also look for bright cushions for rocking chairs or choose bright-patterned pots. The best way to keep the farmhouse look while adding color is to buy traditional decorations like flower pots, but in bright colors.
32) ​​​Rough Wood Decorations
If your house is a little weathered, or you're trying to create a weathered farmhouse look for your porch, you want rough, unfinished wood decorations. These wooden arrows from Amazon have a visibly weathered wood grain, and they're designed to hold up to the outdoors. You can display them together as decorations, or use the arrows to point towards the door or porch exits. If arrows aren't your style, look for similarly weathered wall decorations.
33) ​​​​​Rustic Pendant Light
Pendant lights are a great solution to sloped porch ceilings, so if your porch ceiling isn't level, these are probably your best bet. This pendant light from The Home Depot resembles a lantern, making it a good choice for a farmhouse look. You can also try getting or making pendant lights from wood for a rustic look. Metal lights like this one have the advantage of durability, and this one is weather-resistant for use outdoors. Make sure that the light fixture you pick is moisture-resistant.
34) ​​​​DIY Pallet Wood Seat
Pallet wood is a great choice for any rustic project, and the variable weathering on the wood makes it perfect for repurposing into farmhouse furniture. In this video, Ollari's shows you how to build a rustic bench with a built-in side table for drinks. All you need is a pallet and some 2x4s, and you can choose if and how to stain it afterward. This is a great way to use up pallets and create a piece that looks like a carpenter made it.
35) ​Metal Flower Can
Farms have long been repurposing metal containers, parts, and other used metal items into decorations. When the bathtub starts leaking, it becomes a lawn ornament. In this case, this decoration looks like an old can, but it's actually a flower vase that can hold up outside. You can turn it into a different type of storage, of course. If you have vintage metal around your property, think about how you can use it as farmhouse decor for the porch.
36) ​​DIY Hanging Rope Shelf
Most porches probably don't have shelves, but they're a great way to store decorations and gardening tools, or even flower pots. If you live in a windy area, you might not want to try this one unless you have a covered porch or protection from the wind. Follow these simple instructions from Maggy at Red Ted Art to make your own shelves with a charming rustic look. The rope and wood design makes the ladder shelf fit in on a porch that normally wouldn't have shelves and gives you more options for the rest of your decorating.
37) ​​​Galvanized Hanging Wall Planters
If you want plants on your farmhouse porch, but don't like the look of hanging planters, you can still decorate with plants while keeping with your theme. These galvanized metal planters look like something that a farmer repurposed from containers or equipment, and the galvanized metal won't rust, making it a great outdoor planter choice. The planters attach to the wall instead of hanging, so they won't make the space more cluttered. Try looking for wall decorations if you're trying to keep the porch open and avoid hangings that obstruct the view.
38) ​​​Welcome Pillow Cover
If you're trying to make a friendly "Welcome to my Farm" theme, and show off the neighborly attitude many country folk have, you want some decorations that simply say "welcome." This pillow cover is a nice choice because it welcomes people onto your porch, and also implies that they can take a seat and relax on whichever chair the pillow is on. The pillow is designed for the outdoors, but the cover is also removable so you can wash it.
39) ​​​DIY Birdhouse
One of the simple pleasures of farm life is sitting on a porch, listening to wind chimes, and watching the birds. You can use these instructions to build a birdhouse for your porch railing and get the birds to come to you. If you sit still enough outside, you might even get a visitor up close! Otherwise, having birdhouses on your porch will add to the country charm, and you can watch the birds through the window, so they feel safe.
40) ​​​Church Pew
While the two aren't directly related, farms and country churches are often associated. This do-it-yourselfer came up with the neat idea of using a church pew for a porch seat. While it's not the traditional farmhouse look you were expecting, it shows the ingenuity of country folk and the need to reuse and repurpose things instead of wasting them. If you find an old seat or church pew at a tag sale, this is a neat way to make a farmhouse porch bench.
41) ​​​Home, Sweet Home
Since a farmhouse porch is all about home, family, and comfort, a sign that says, "Home, Sweet, Home," is a great way to reflect that. This large sign from Amazon can be leaned up next to the door on a front porch to welcome you home, or you can lean it against steps or at the top of steps as you climb onto the porch. If you have the lumber for it, try painting your own sign. You can print and trace letters onto the sign if you don't trust your handwriting skills.
42) ​​​DIY Vintage Pallet Ice Box
Since upcycled pallets are such a big thing when it comes to outdoor decorations and furniture, here's another idea for you. Use this instructable to make a vintage ice chest from pallet wood. This will give you a place to store drinks when you're hanging out on the porch, and you can fill it up for a party. The finished piece of furniture looks like something you'd find in an old barnyard garage or a real farmhouse's porch.
43) ​​​​Mason Jar Lantern
Mason jars are a staple in farmhouses, and any decoration that uses Mason jars will fit well on your porch. You can find uses for mason jars, such as filling them with string lights and hanging them around the edges of the porch, putting flameless candles in them, or using them as flower vases. This mason jar decoration from Amazon is amazing because it includes many farmhouse elements in one item. The decoration is a mason jar lantern with an oxidized green metal lid. It's designed to hold a flameless candle, so it'll look authentic.
44) ​​​Wagon Wheel Decorations
Wagons and horses were an important part of farm life in past times, as farmers used them to bring goods to markets. Since then, wagon wheels have remained a symbol of those times, and of country life. They make great decorations, and you can use them for chandeliers, benches, and other furniture projects on your porch. If you don't have one lying around, though, you'll need to find one or make one using these instructions.
45) ​​Farmhouse Metal Chandelier
Scrap or vintage metal is a common decorative element on a farm. After all, farmers aren't going to waste good metal. When something breaks, it often becomes a metal decoration. If you have an old outdoor chandelier that doesn't fit your theme, don't waste it. Instead, redesign it to like the writer of this article did, so it looks more like a farmhouse-style chandelier. If you need to buy fixtures and other parts, make sure they're all designed for the outdoors, even if your porch is screened-in.
Do you have anything we could've used on our list? Farmhouses have all kinds of treasures stored away, so we'd love to hear about your DIY projects and purchases. Please let us know in the comments below!