You almost have it! You love guitar, and you've almost finished learning that new song. Your transitions aren't as smooth as they could be, and you still hear the twang of the strings more than you should, but that's why you need You stare absently up at the ceiling from your spot on the bed. Your eyes follow the line of white paint where the ceiling and wall meet. You can see a few uneven spots from when the ceiling paint dripped onto the wall. It drives you insane and you know you have to do something about it.  And then it hits you; crown molding. These crown molding ideas for a bedroom will help you get started.
1) ​​Historic Patterns

Crown molding is a traditional way to cover the seam between the wall and ceiling. If you want it in your bedroom, a traditional look may be the way to go. This crown molding from Amazon was modeled after historic patterns to give an old fashioned and traditional look to the room. It's quick and easy to install, and the material is durable. Since it comes primed, you can paint it or add a faux finish easily once you have it installed.
2) Natural Wood

While a lot of crown molding is painted, you might want a more natural look in your bedroom. Natural wood will also look more rustic if you have a farmhouse or other rustic theme. Since a lot of crown molding comes in manufactured materials with a white primer on it, the easiest way to get a natural wood look is to paint it like the wood in this project. You can also get wood trim and finish it with some stain to bring out the wood grain.
3) ​​DIY LED Light Strips

What do LED lights have to do with crown molding? Don't worry, we aren't suggesting you use them as crown molding. Once you have your molding attached and painted, though, you have more to do. You can add crown molding a few inches below the ceiling to hide not only imperfections in the paint but the lights themselves. Use this video guide to create a subtle glow above your crown molding with LED strips. Since you can attach it to a dimmer switch or automated home lights, they'll never be too bright to sleep under.
4) ​Subtle Colors

Your crown molding is a classy but ornate touch. While it's great to have in a master bedroom, you don't want it to be the focus of the room. Instead, it gives the room an elegant feel overall. This guide includes tips on choosing your paint color to make crown molding shine. You'll want a glossier paint then your walls, so if the walls are eggshell, get satin or semi-gloss paint. Avoid flat paint. You also don't want dark colors that'll stand out and attract attention away from the rest of the room.
5) ​​​Fake It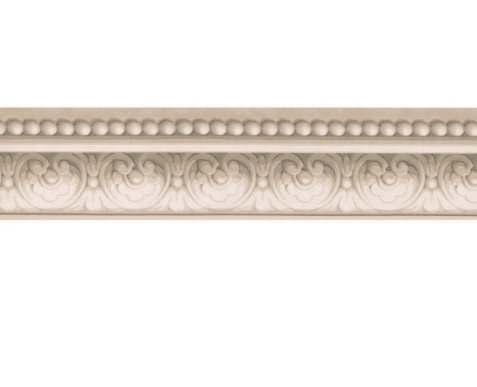 Crown Molding is expensive and hard to work with. Your best bet is to hire a contractor and pay labor costs beyond the price of the molding. If you want crown molding, but don't want the hassle and expense of it, try adding decorative elements to your ceiling. You can paint them on, or use wallpaper like this one. The wallpaper looks like crown molding, so you get that classy, traditional look you want without the hassle and expense.
6) ​Caulk

If you're painting your own crown molding, make sure to do it right. Your bedroom is where you express yourself, and poorly painted molding takes away from your ability to do so. Whether you choose a bold color or a subtle one, you need to use the correct materials when you prep for painting. If you have bunk beds, this is even more important, since the person on the top bunk gets a clear view of the molding. Make sure to use white painter's caulk, which won't shrink like clear caulk, and follow the instructions in this video.
7) ​Stay Simple

You don't want crown molding in every room of the house. If you're putting it in a master bedroom, you can choose bold designs, but those designs would be too much for a smaller bedroom or child's room. In those rooms, use a simple molding design like this one. The molding looks nice and adds to the look of the room without taking over. This is important if you have a lot of thematic decorations since you don't want the decorations to overshadow your Batman or Lord of the Rings posters.
8) ​​​​​Patterns

Ornate crown molding may be too much for a bedroom, but you might not want something extremely simple, either, After all, you want it to be visible and attractive, you just don't want it to be overpowering. Choose a crown like this one; it has a pattern to keep it from being bland, but the pattern isn't overstated. This makes it a great choice to cover seams and add an elegant look to your bedroom.
9) ​​​​Windows

While ceilings are a common place to put crown molding, they aren't the only place you can put it. Crown molding can go on top of almost anything, including shelves, windows, and doors. In this picture, you can see how somebody used crown molding to accent their window trim and define the window area. If you have a bay window or alcove with a lot of windows, you can use crown molding to separate the space and make it a bit fancier than the rest of the room. This idea is also cheaper than installing crown molding throughout the room.
10) ​Hide Cables

Most bedrooms nowadays have a stereo system and computer, at the least. You might have a TV or other electronics, too. Since most bedrooms in older homes weren't designed for all these electrics, your outlets are probably in the wrong place for your TV. This means running wires along the floor and ceiling trim to install your electronics. This crown molding is hollow, so you can run the wires through it to hide them. This way, all people see is the beautiful molding and maybe a small hole near the base of the TV.
11) Choose the Right Size

Crown molding comes in many sizes, so you'll need to know which one to get for your room. When the molding is up on your ceiling, it'll look smaller, so it can be hard to judge the right size in a store or online. This guide helps you figure out what size to use. Most standard ceilings are 8 feet, so you probably want 2½-inch to 6-inch molding. In a main living or dining area, 6 inches may look good, but you want a simpler look in a bedroom. This means you should try shorter crown molding.
12) ​Plastic

Crown molding comes in many materials, such as wood, foam, or plastic. Plastic molding like this is durable and waterproof. This probably isn't a concern in a bedroom, but f you heaven attached bath, you may want to match the crown molding in the two areas. This plastic can be sanded to shape, just like real wood. It's already primed for most latex paints, so you save the time it takes to prime it and wait for the primer to dry.
13) ​​​Headboard

Bedrooms offer places to put crown molding that don't exist in other rooms. You can put it on the edge of a dresser or along the edge of a shelf. You can even have crown molding above your headboard like in this picture. This only works for very ornate rooms, but if you have a large headboard in your bedroom, the crown molding can make the room look regal. This much crown molding should only be used in a master bedroom.
14) Get a Professional

Crown molding is difficult to install, even for professionals. It requires joinery skills and tools that most homeowners don't have. The molding can also be expensive, and you don't want to pay a lot of money for something that won't look right. This article will help you figure out if you have the skills to install crown molding yourself. Unless you've worked as a carpenter, hiring help is well worth it for the cost. If you want to save money on labor, you can caulk and paint the molding yourself.
15) Paint It In Place

There is debate as to whether one should paint crown molding and trim in place or paint it ahead of time. No matter what, you'll have to do some touch-up painting over nail holes once it's installed. Should you do that first coat before you install it? This blog post goes over the pros and cons of painting before or after the molding is installed. In most cases, it comes primed, but in short, crown molding is best painted after installation.
16) Ornate Corners

If the crown molding is purely decorative, you may think it's not worth having if it's not ornate. That's a fair point, and there are ways to do ornate crown molding in bedrooms. Instead of buying fancy crown molding for the entire room, get corners like these. These corners add a fancy touch without overdoing it. They work well in a master bedroom, but they can also look good in a guest room. A corner like this also eliminates difficult miter cuts if you're trying to do it yourself.
17) ​​​Match Walls

The crown molding doesn't have to be a unique color to look nice. In fact, white crown molding can stand out against a white wall, like the molding in this image. Instead of highlighting the molding with multiple colors, the owner blended the molding into the wall and ceiling. This leads to a decorative joint that doesn't draw attention to the crown molding. You can create a subtle effect like this with any color, and since you're using the same color for the wall and crown molding, you don't have to worry as much about cutting in.
What type of crown molding would you put in your bedroom? Crown molding is a bold and traditional choice, and we'd love to know what else you can do with it! Please let us know in the comments below.