Basements are typically dark, damp spaces used only for storage, but basements can be so much more.  All it takes is a little imagination to make your basement a place where your family and friends will love to spend time and relax watching the newest Hollywood releases or the big game.  One great idea is to convert your basement, or a portion of it,  to a theater.   If you're thinking of converting a part of your basement into a home theater, then pay attention to our list of Basement Theater Ideas.
1) TV vs Projection
The first choice when planning a basement theater is to mount a television or use a projector?  If you go with a TV, you only have one piece of equipment to install. With a projector, you'll need two; the projector and a screen.  With a television, you are limited to the size of the TV, while a projector gives you more sizing flexibility, allowing your image to be larger than any current television.  If you need information about the differences between 4K televisions and projectors, check this out.
2) Sound System
Every theater needs a rocking sound system.  You can go with a 5.1 system which means you have 6 channels of sound, one subwoofer and 5 speakers, while a 7.1 system gives you two more channels with two more speakers.  Both offer surround sound, so you'll want to place the speakers in the correct places (or hang them from the ceiling) to get the most from your sound system.  Click here for an extensive comparison of sound systems that won't break the bank.
3) Soundproofing
To keep noise levels down in the rest of the house, consider soundproofing your basement theater.  There are several ways to go about this. The easiest it to install acoustic soundproof tiles on your existing walls and ceiling.  The tiles come in several designs and colors and can be chosen to fit the theme of your theater. Another method is to construct walls and fill them with sound dampening material.  For some tips about where to place acoustic panels, follow this link.
4) Seating
From plush recliners with drink holders, to reclining sofas and loveseats; your choices for seating are vast.  You can even mix it up by using sofas for your front row and recliners for your back rows. If you have more than one row of seating, be sure to elevate the back rows for better viewing.  This can be done by building platforms, or by placing taller chairs in the back row.  Here's a link to compare and shop for several different styles of home theater seating.
5) Lighting
Proper lighting is also an important consideration.  While watching you'll want limited lighting. This is especially true if you are using a projector, since any ambient light will interfere with the projection.  While not watching, you'll need lights to move around safely. Consider setting up all of your theater lights to a remote dimmer. That way you can control the lights from the comfort of your seat.  For tips and information about home theater lighting, check this out.
6) Decide on a Theme

Setting the right tone and theme for your basement theater is entirely up to you.  This is where you can let your imagination run wild. Use red velvet and gold to make it look like a classic movie house; or, you can include displays with movie props and posters of your favorite films.  Another option? Dedicate your theater to one favorite film series, such as Star Wars.   Click here to shop for Star Wars prop replicas
7) Curtains
Curtains are an easy way to make your home theater look like an actual movie theater.  They can be used to frame your screen or television with sconces along the top and hanging drapes along the side.  Curtains can also be used to line the walls or hide the nooks where your theater equipment (receiver, Blu-ray player, equalizer, etc.) resides.  Here's a DIY article on how to install your own theater curtains.
8) Carpeting
Carpeting serves many functions.  For design purposes, carpeting can be used to tie your theme together.  It can be matched with your soundproof acoustic tiles to create a uniform look.  Break up the look with wood trim or curtains to add a touch of class. Carpeting will also help to absorb sound, adding another level of soundproofing to your basement home theater.  For more tips on purchasing the right carpet for your home theater, check out this article.
9) Intimate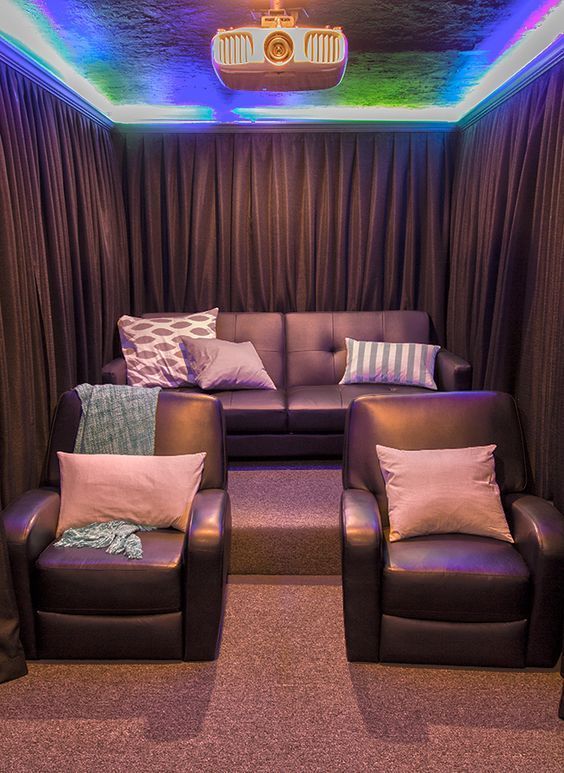 Your basement home theater does not have to be a massive project.  If space or budget limits are a concern, then intimate is the way to go.  To achieve this look, all you need is the television, sound system, curtains, a raised platform, carpeting, recliners and pillows.  Warm and cozy, this is the perfect space for a family of four to relax and enjoy their favorite films. Check out this article to learn how to build your own theater risers.
10) Colored Poster Light Box

A great way to integrate lighting and wall decor is to hang your favorite movie posters in a Colored Halo Movie Poster LED box.  The glow of the LED lights will give your theater a cool sci-fi vibe. Another great thing about poster boxes is that posters can be changed out, allowing you to keep your wall decor up to date with the most current films.  To shop for different types of led lit poster boxes, go here.
11) Movie Set

Another clever idea is to design your basement theater to look like a movie set.  You can make it look like the interior of the Death Star, or the Discovery I from 2001: A Space Odyssey.  Another option, is to make it look like the mine featured in Indiana Jones and the Temple of Doom or the Goblin mines in The Hobbit: An Unexpected Journey.  If you want to include wood in the design of your home theater, follow this link for several choices in faux wood beams.
12) Concession Stand

You can also include a concession stand stocked with candy and soda.  It does not have to be really elaborate either.  It can simply be a display case with a minifridge.  Spice up that display case with napkin and straw dispensers. The popcorn popper however, is a requirement and NOT optional!  Check out some home theater popcorn poppers here.
13) Roll Out the Red Carpet

If you have space, don't forget to give consideration to the entrance of your basement home theater.  You can simply include a marquee above the door, naming your theater. You can also place posters in the hallway leading into your theater.  You can even install a red carpet and velvet rope barriers and make every movie night a gala premiere. Click here to shop for this theater marquee and a whole lot of other home theater memorabilia.
14) Sports Theme

Who says your basement home theater has to be for movies?  If you are a sports fan, go with a sports theme. Hang multiple televisions to watch more than one game at a time.  Decorate the walls with sports memorabilia and include a scrolling sports ticker to keep track of all the scores. Finally, you can include a bar with a tap for your favorite beer and shelves to store your liquor.
As you can see, there are many great ways to design and implement a basement theater that your whole family will love and enjoy.  Whether it's a sprawling room decked out with classic theater red and gold, or a cosy, intimate space, the choice is yours. Hopefully, our 14 Basement Theater Ideas have given you a starting point for planning your own home theater.
Did we forget anything?  Are there any ideas you would like to expand on?  Leave us a comment and let us know!