You've seen enough of those drab looking basement windows and want to figure out a way to make them look much nicer.  If you're here, you've realized that window curtains are your path to a better looking room and we want to help.  Check out this list of Basement Window Curtain Ideas, to help you plan what to do to make your basement windows look much nicer.  
1) Short Curtains
If your basement is mostly below ground, chances are your windows (if you have any at all) are the small ventilation windows that you usually find near the ceiling of a basement. Most often, these windows are only one to two feet tall and can be as wide as a normal window.  If you are looking for curtains for basement windows of this size, you can find many styles and colors at Amazon.
2) DIY Ventilation Window Covering
If you have knowledge of sewing and own a sewing machine, it is quite simple to make coverings for your basement ventilation windows. This homeowner, made her own coverings by sewing pockets for tension rods in the top and bottom of a piece of fitted sheer material. It was just a matter of adjusting the tension rods and fitting them in the windows.
3) Blackout Curtains
If you have a bedroom or a home theater located in your basement, there will be times when you will need to block the sunlight from entering through your basement windows. In these cases, blackout curtains can be purchased and hung. Essentially, these are curtains with a sewn in liner that will block sunlight and heat. Click here to start shopping for the style you have in mind for your basement.
4) Sheer Curtains
Instead of blackout curtains, there may be areas in your basement when you want to let in as much light as possible and still allow for privacy. Curtains made from sheer materials are ideal for these situations. Sheer curtains can be combined with blackout curtains to give you great flexibility in the amount of light you let into your basement. Here are quite a few styles that can be purchased online.
5) Scarf Valances
Another design option for your basement windows are scarf valances. Scarf valances are material that hang over curtain rods to add greater eye appeal to a window treatment. These can be hung alone or in combination with any other type of window covering; curtains or blinds. These can also be purchased at Amazon.
6) Tie-Up Shades
A different type of curtain design that you can choose for your basement windows are tie-up shades. Tie-up shades are curtains designed to be laced up with bows at differing lengths to allow light into a room, or to block it out completely. They can be purchased in different colors and styles, with a variety of tying options. To start shopping for a style that you might be interested in, click here.
7) Sew You Own Curtains
If sewing is your thing and you own a sewing machine, sewing your own curtains is an easy project to do. Designing and sewing your own curtains will give you the most flexibility for your basement windows, allowing you to make them as big or small as necessary. Making your own curtains is also a cheaper option if you are more budget conscious. Watch the video to learn how to sew simple panel curtains.
8) Curtain Rods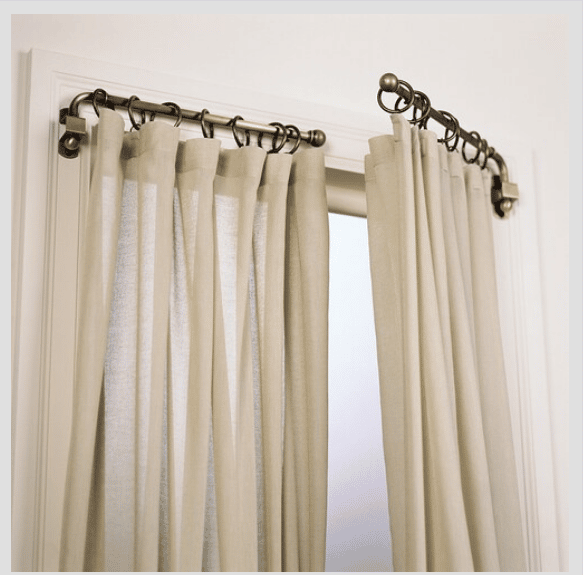 There are several types of curtain rods that you can use to hang your curtains; conventional, traverse, and swing arm to name a few. As important as the curtains themselves, curtain rods are a way to give your window treatments a personal touch.  Each type is available in many different designs and at varying costs. To learn more detail about the different types of curtain rods, follow this link.
9) How to Hang Curtain Rods
Hanging your own curtain rods is an easy project that can be done by a beginner in under two hours. Traditional rods can be hung with a power drill, a level, and drywall anchors. If you are renting your space and cannot make holes in your walls, tension curtain rods are also very easy to hang. Here's an article that will give you step-by-step instructions explaining how to hang curtain rods.
10) Traditional Curtain Rods
Traditional curtain rods come in a variety of styles and materials. Add to it that there are also a big selection of finials (the knobs found at the ends of traditional curtain rods), and you should have no problem finding the right rods for your basement. Furthermore, most of the styles come in many different sizes to fit all types of windows. Amazon has a huge selection that you can shop for here.
11) Tension Curtain Rods
Perhaps you don't want to put holes in your basement walls, or are renting your space and are not allowed to put holes in your walls. In this case, tension rods can be used instead of a more traditional type of rod. Tension rods are expandable rods with rubber stoppers that lock into place on the inside of your window openings. Click here to shop for different styles.
12) ​​​Window Blinds
Another option that can be used in place of, or along with curtains, is window blinds. As with curtains, blinds can be found in a lot of different sizes, shapes, and styles. Finding the right type for your basement windows is a breeze. Most of the blinds will come with the necessary hardware and installation instructions. To start shopping for options, check out this link.
13) ​​​​Interior Shutter Blinds
If you would like to give you basement windows a little old time charm, then hang interior shutter blinds. Interior shutter blinds can be completely closed and shuttered to block sunlight. To allow more light and still allow for privacy, the shutter slats can be partially opened. For the maximum amount of light, the shutters can be fully opened. Click here to take a look at some of the available options.
14) Automatic Curtains or Blinds
Let's say you are upstairs at night time and don't remember if you closed your basement blinds or curtains. Fortunately, you don't have to go downstairs and check, you can just use your smartphone or ask Alexa to close them for you. Automated blinds and automatic curtain rods are available at Amazon and are easy to set up and install. This is also a great option for the windows in your basement home theater!
So, there you have it, our 14 Basement Window Curtain Ideas. We covered the basics in both curtains and blinds, rods, and interior shutters. Hopefully, with the information here, you will be able to start planning and shopping for just the right curtains to fit your basement plans.  Whether you want something to block out the sun or something sheer, the options are limitless.
What do you think? Do you have any questions or suggestions? Leave a comment and let us know!