Are you planning a basement renovation and considering adding a walkout entrance to your basement? Or maybe you just need to replace your old, rusty bulkhead doors and are looking for some new  ideas?  Either way, you've come to the right place.  Upgrading or replacing your exterior basement door can be done in an afternoon or weekend.  For help in considering your options, check out our list of Exterior Basement Door Ideas.
1) Bulkhead Doors
Bulkhead doors are a very common egress for many basements. If you have a bulkhead egress to your basement, maybe you are looking to upgrade it. There are many reasons to upgrade your bulkhead. Perhaps the old one is not as secure, or is broken and rusting. New bulkhead doors can be purchased online, or in many home improvement stores.
2) Clamshell Doors
Some companies have combined sailing technology with basement door design. The clam shell door is a form of bulkhead door that opens and closes like a clam. Similar to bulkheads found on a sailing ship, they are great at keeping the entry to a basement free of moisture. While not as easy to find as traditional bulkhead doors, they can be purchased online.
3) Bulkhead Replacement: DIY or not?
If you have a free weekend or two, replacing your own bulkhead doors can be done. It involves removing the older bulkhead doors, and possibly repairing the concrete in and around the egress. It might be extensive work, but almost anybody can learn to do it. Here's a DIY cost calculator to compare the time and money it takes to replace your own versus hiring a contractor.
4) DIY Bulkhead Replacement
To replace the bulkhead yourself, you may need to repair the concrete egress the door sits on.  This is done using grout to fill in any cracks in the concrete. Woodworking is required to frame the door and help secure it to the concrete. Finally, the door will need to be attached to the frame properly. You can find detailed instructions and a video about how to replace your own bulkhead, here.
5) Hidden Deck Bulkhead
If you are adding a deck to your house, it is possible to incorporate the bulkhead entrance into your deck. Many companies can do this for you, but if you are a serious DIY home renovator, it is possible to do yourself as well. Securing the door in the deck and keeping the egress dry are your main concerns. Here a video explaining how to do it.
6) Secure It!
After installing your new bulkhead, you need to secure it. Most new bulkhead doors come with latches or locks. Consider that if you are planning on converting your basement to a residential space, you must have an easy exit route from your basement to the outdoors. In this case, your locks must be able to open from the inside. Many different lock options are available to keep your basement door secure.
7) Window Egress
If you do not have a walkout egress for your basement, the easiest way to make one is to convert one of your windows to an egress window. An egress window must open from the inside and must allow enough head clearance for a person to walk out of. If you have window wells, this is easier to do. If you are converting a ventilation window to an egress window, click here for detailed instructions.
8) Walkout Entrance: Pros and Cons
If you are having a new house built with a basement, or if you are planning significant renovations to your existing basement, you might want to include a walkout entrance. Installing one in an existing house requires some consideration. Here's an article to get you started weighing the pros and cons. As always, check building codes in your area before doing any major renovation.
9) Adding a Walkout Entrance
Adding a walkout entrance to a basement is a significant renovation and, unless you are an engineer like my dad, will require a contractor. It can be done, but it requires significant knowledge in clearing and grading soil, water drainage, form carpentry, cutting and pouring concrete, building stairs, and door installation. For a fascinating video of what's involved, click here.
10) Build Your Own Door
If you already have a walkout entrance and just need to replace the door, that is an easy do-it-yourself project. Exterior doors can be purchased at any home improvement store and quickly installed in an afternoon. If you love woodworking, you can even build your own out of reclaimed wood.
11) Install a Railing
One way to spruce up an existing basement entrance is to install a hand railing. Hand railings can be installed for decorative reasons, but they are also a good safety measure as well.  Installing one into a concrete walk down only requires the correct tools and can be easy to do yourself, as this article explains.
12) ​​​Sliding Glass Door
If your house is built into a hill or the surrounding area was landscaped to provide a walkout entrance for your basement, you'll have many more door options at your disposal. If your walkout area is wide enough, you can convert a basement door into a sliding glass door. With a little knowledge and some help, this can be a weekend DIY project.
13) Build a Roof Over It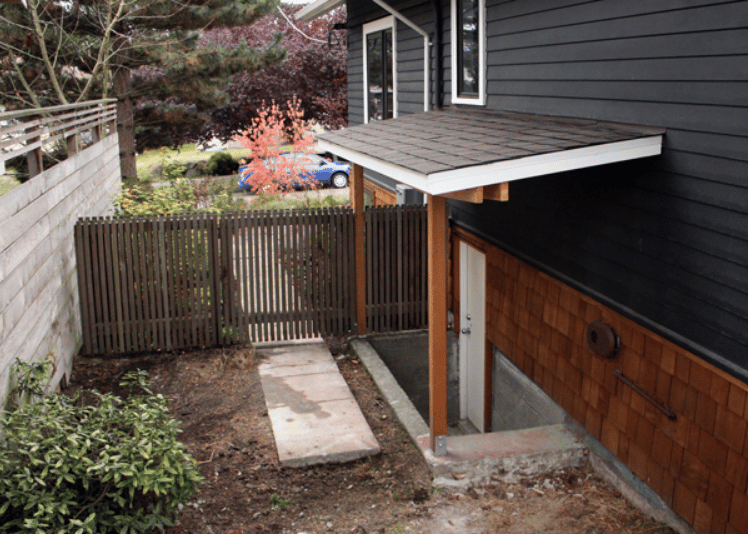 Another way to spruce up your walkout basement entrance is to build a roof over it. Of course, if you have a wider walkout area, you can build a deck over the basement door as well.  Extending a roof over a set of walkout steps can be a diy project, but it requires a little more knowledge than the average home improvement. Here's an article explaining how it can be done.
14) Add a Patio
Another option if you are blessed with a wide area just outside your basement entrance is to build a patio. This will add significant eye appeal to your walkout basement door and provide a great gathering place for friends and family. To learn how to install your own stone or brick patio, click here.
There you have it, our 14 Exterior Basement Door Ideas. We covered a lot, from replacing your existing doors, to completely redesigning how you enter your basement. Some of the projects are easy to do yourself while some require the knowledge and expertise of engineers.  Hopefully, we were able to give you a starting point for ideas for your own exterior basement doors.
Do you have any basement door ideas you'd like to share?  Leave a comment below!