You're setting up the perfect man cave. You have comfortable furniture and a solid desk. The paint is your favorite color and the lighting is just right. Nearly every inch of floor space is taken up by various items. But there's something missing…the walls are bare.  it's obvious things need to change and we have just the thing for you.  The answer; Signs.  But not just any signs, you specifically need man cave sign ideas and we're here to deliver.  
1) Retro Bar Signs
While man caves have some common elements, everybody has their own unique tastes. Your man cave could be a music studio, bar, hunting lodge, gamer's paradise, or many more things. It could even be all these things at once. These retro signs come in many themes, including music bar, beach, garage, beer, and more.
Use these signs to express your interests, or get more than one to label your beach man cave as well as your coffee station and music bar.
2) DIY LED 3D Letters
This man cave is your space, and that should be apparent from the moment somebody walks into the cave. Personal items are one way of marking the cave, but you can also take a more literal approach. This do-it-yourself project shows you how to build your own letters in free-standing signs. You can put your initials anywhere in the cave or spell out the name of your band on the bartop. You could use this same method to make other free-standing signs as well.
3) No Trespassing Yard Sign
A man cave is good for hanging out with friends, watching a game, or practicing a song. It is also the best place you have to be alone with your thoughts. Make it clear that your man cave is your personal space with this No Trespassing yard sign. You can put this outside to label your outdoor man cave, or outside your shed or garage to keep out strangers and friends alike. It can act as a family joke or a serious deterrent.
4) Wolves Den Street Sign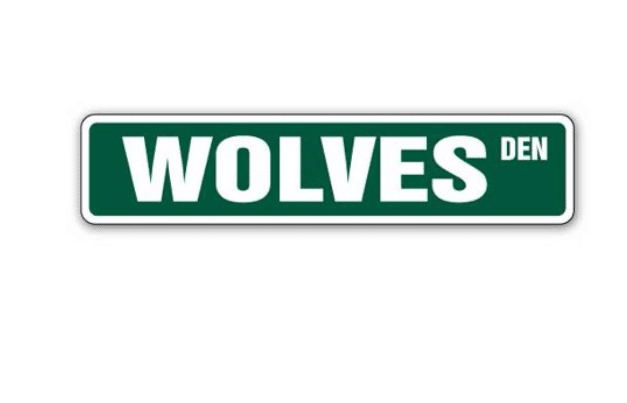 "Man cave" is a common term for a space that belongs exclusively to the man of the house. That said, many people refer to such spaces as a den. If you like to hole up like a hibernating bear or sleeping wolf, the Wolves Den may be the proper name for your man cave.
If you like wolves, then this Wolves Den street sign may be the perfect label for your man cave. Hang this outside the door to mark your territory.
5) Do Not Disturb Sign
If you have a family, you may have to deal with constant interruptions when working, reading, or watching TV at home. Sometimes you deal with those interruptions, and sometimes you retreat to your man cave. This Do Not Disturb sign lets people know that you are reading, working, watching TV, or otherwise doing something that they should not interrupt.
This sign does not just say that they cannot enter. That is implied in the name "man cave." The sign tells them you are not to be disturbed, so they should not knock, yell, or otherwise bother you.
6) ​​​DIY Custom Engraved Wood Sign
Sometimes the right sign does not exist. If that is the case, you have to build the sign yourself. This video shows how to create your own sign with a router, saw, and a piece of wood. It is a good idea to print your writing or image first, to get a professional-looking sign.
While the man in the video burns the wood to bring out the grain, you can also paint or stain it in any way you prefer to make the sign fit your needs.
7) Open Sign
If your cave is a concert hall, theater, or bar, you need lit-up signs. These are part of what gives the sleek, professional feel to your space. Impress your guests with this professional Open sign, and tell them when the bar is open for business. When you are ready to play a song or pass out drinks, use the switch to light up the sign and start taking requests.
This sign comes in many different colors, including rainbow. You can pick the color that best fits your man cave theme or colors.
8) ​​Red Paint
There are many ways to make your own signs, but there is one consistent theme: you want your signs to stand out and be visible in all lighting conditions. One of the best color combinations for a lettered sign is a red sign with white letters, or a white sign with red letters. This red paint comes in a convenient quart container. Black and white also stand out. This paint comes in a variety of colors, so feel free to grab it in as many colors as you like.
9) ​We Are Not Responsible For Accidents
If you have a guest in your cave, you do not want to have to babysit them. When somebody does something stupid, whether they injure themselves in a soccer game in your outdoor man cave or cut their thumb open on a pocket knife, you laugh first and drive them to the hospital afterwards.
This sign makes it clear that people are responsible for themselves with the phrase "Not Responsible for Accidents or Injuries." That said, please drive somebody to the hospital if they cut their thumb off in your man cave.
10) Letter Stencils
Sometimes the sign does not exist that perfectly expresses your idea. In such a case, use these letter stencils to spell out your own message. You can use them to paint directly on a wall, or to paint on a tile and hang it up. 
These also make good stencils to plan a sign. If you want to carve a wooden sign with your router, try sketching the letters first using these stencils instead of a computer printout.
11) Suction Cup Hooks
While most of your signs will be free standing or hung on walls, that is not the limit of your possibilities. Some may be hung on ceilings, or even on smooth surfaces like glass. If you want to hang a sign in a glass window, or another place you cannot drive a nail into, use these hooks. They attach to a surface using suction cups and can hold up to 5 pounds (2 kg). That is enough for many signs, and you can support a single sign with more than one hook if needed.
12) DIY Light Up Wood Letter Signs
Lit-up signs give a classy feel to a space. Meanwhile, hand-carved wood signs add a rustic atmosphere that you may love. This do-it-yourself article shows one method of making an antique sign, as well as a way to make a vinyl sign. The best part of the article is the wooden marquee signs. You can take a 3-dimensional wood sign and turn it into a neat lit-up sign with this DIY idea.
13) Sasquatch Yard Sign
We all know that the sasquatch, commonly known as bigfoot, is real. That said, some people may not take this sign seriously when it says not to feed the sasquatch. This is a great humorous sign for an indoor man cave. It implies that a sasquatch is hiding in your cave, or that you eat enough to rival the legendary creature.
The rustic look of the sign is great for a hunter's cave; however, it also implies that the resident is a recluse. This makes it great for anybody who feels like holing up in a cave every so often.
14) Wifi Password Sign
The internet is a big part of people's lives now. You may enter your man cave to avoid it, but most likely, there is something in your man cave that uses wifi. If there is not, you will likely have a friend come over with their smartphone and ask for the wifi password.
This convenient sign has a spot to write the wifi password so that anybody who comes into the cave can see it. This keeps you from having to look up the password often, since you likely have it saved on your devices rather than memorized.
15) DIY LED 3D Sign Board
This do-it-yourself video shows how to make a lit-up sign. It shows how to make large, raised letters, but also how to make letters that are recessed. While your man cave will likely have much smaller signs, you can use strong lights to achieve a similar effect. This way, your man cave can have a professional-looking sign. This is particularly appropriate for home bars, home theaters, and other man caves designed to look and feel like you are out of the house for the evening.
16) Coca-Cola Sign
Coca-Cola is one of the most iconic brands in the world. Vintage Coca-Cola items sell often and for a lot of money at times. Thus, if you have a bar, mini fridge, or vintage signs and accessories in your man cave, you need something Coca-Cola.
This Coca-Cola sign has a vintage look. It shows the slight changes to the famous Coca-Cola Spencerian script over the years, labeled with dates. Add this sign to your wall to become part of a long tradition.
17) Game Room Sign
While many man caves are old fashioned and traditional getaways or game rooms, some are filled with the latest technology. If you play video games, you likely spend hours holed up in the darkened man cave with a controller in hand. This game room sign shows two game console controllers to depict just what type of game room you are talking about. The words are lit, so you can see the sign even if the room is pitch dark
18) DIY Neon Wire Sign
Neon signs are great for bars, game rooms, and any man cave that may have dim lighting. They give a nightclub or sleek professional feel to an area. Like any sign, though, it can be difficult to find the exact words or look that you want. This video and article shows you how to take a few materials and turn them into your own sign. With a little practice, you can make the sign look any way you want.
19) Lit Beer Marquee Sign
Signs are a great way to express yourself without taking up floor space. That said, you may have a wall in your man cave that is not easily seen. Any signs you put there will be wasted as nobody is looking at them from the right angle. This marquee sign sticks out from the wall and is read sideways. The word "beer" makes it a great bar sign. You can place it on one wall of the corner bar to let people know when they are entering the bar area.
20) ​​Private Sign
Your man cave is an office, personal gaming space, lodge, and more. Sometimes, you are working from home or building a cool gift for your wife's birthday. Then your wife walks into the room to let you know that there is somebody at the door, ruining the surprise. This sign tells people that your man cave is a private area. It will keep them away from the door, even when you are not at home to keep them away.
21) Light Up Letters
If you are setting up a gaming room, movie theater, or other dark space, your signs will need to light up. One type of sign you will want is a 3D letter. Unlike some 3D letters, these signs are black. This means that the light is the only part that is visible when you have the lights off. This creates a unique shadow effect. These marquee signs can be hung on the wall or stood on a surface, such as the back counter of a bar.
22) Custom Yard Sign
Most outdoor signs are geared towards keeping people off private property by giving warnings of some sort. If you have a message you want outside your garage man cave or in your patio man cave, you may need to write it yourself. Not all signs are waterproof, and it would be a pain to remember to bring them inside each time it rained.
This metal yard sign can be customized any way you want and mounted on a signpost or tree. It can also be vertical or horizontal.
23) U-Channel Sign Post
Outdoor signs can come with stands, but most are designed to attach to a tree or signpost. Free standing signs can be stolen more easily and can get blown over by wind if you live in a plains state or a big storm comes through. If you do not have a tree in the exact place you want one, these U-channel signposts are the best option to mount your outdoor man cave signs.
24) Custom LED Message Board
Many man caves are bars and theaters. While you are with your own company much of the time, let visiting friends know what is on the menu with this LED message board. This sign is similar to signs used at restaurants and bars for drink menus. It is also a cool place to write any messages you have for yourself. This could be a to-do list, a favorite quote, or even a word of the day.
25) Color-Changing Letters
Light-up marquee letters are great for many types of man caves. Some are black to blend in with theaters and gaming caves, others are white or homemade with a chosen color. These lights come with a remote control to change color as often as you like. They can stand freely or you can hang them on the wall. Buy whichever letters you need to spell anything you want, since each letter is sold individually.
Are there any signs you have struggled to find? Did this article help you find one? Tell us about it below!