Disney is the land of magic and fairy tales, as well as countless villains and lessons to be learned. You loved Disney as a kid and want to pass on that wonder. However, you haven't chosen a specific tale, and maybe you're not sure if you're having a boy or girl, so you might not want a gender-based room. We found enchanting Disney Nursery Ideas for Boys and Girls so that you can choose only the most creative ideas.
1) Disney Princess Autographs

We live in a time when boys are allowed to like princesses and girls can play with trucks, but we know that many people won't want a Disney Princess room if they're not sure what gender the baby will be. So instead of a complete Disney Princess theme, you can make a couple of small Disney princess decorations like this autograph decoration. The neat thing about this is that it's like getting autographs from your favorite celebrity, and celebrity autographs fit in a boy's or girl's room. 
2) Minnie Mouse

Mickey and Minnie Mouse are both a big part of Disney's early days, and they're iconic images that people still love today. You might want to use more Minnie Mouse decorations if you have a girl and more Mickey Mouse decorations if you have a boy. Even if you don't know whether you're having a boy or girl, Minnie and Mickey decorations like these are both classic and fun. You can always get this set of decals and only use either the Mickey or Minnie one based on your child's gender, too.
3) Disney Parks

There are so many aspects of Disney that it can be hard to choose a favorite. Do you want to focus on Disney storybooks? Movies and TV shows? If you love visiting Disneyland, you can even focus on Disney Parks. A focus on Disney Parks could be neat if you plan to take your child or children there or if you love the parks but can't afford them. This way, they can experience Disneyland in their bedroom. Take a look at this video to see how you can create a Disney Parks nursery.
4) Keepsake Winnie The Pooh Pillow

At this crucial time in your child's life, you'll want to start gathering and planning keepsakes so that you can look back in ten years and remember things that could have been blurred by time and memory. Since you have a Disney theme, you can get this gender-neutral Winnie The Pooh blanket from Amazon and fill in all the information. Your best option is probably to use it as a decoration instead of using it since you'll only want to spot clean it.
5) Clouds and Dreams

A nursery is a place to sleep and dream, so your decorations should promote calming sleep and happy dreams for your baby. You can even get dreamy decorations like these decals of Winnie the Pooh characters sitting on clouds and watching the stars and moon. This is a quicker and easier way to make a removable mural with no experience or skills required, and you can remove it later on if your child grows out of it or moves to a new room.
6) Toy Story

Toys are central to a child or baby's life. They're how a child first begins to learn about the world and understand basic concepts that the rest of us take for granted. Because of this, children love toys and love things like Toy Story that bring those toys to life. If you're trying to pick a Disney theme, Toy Story is an excellent one because children will love it, and it isn't gender-specific; all children love toys! If you like the idea, try creating a Toy Story nursery using this guide.
7) First Year Collage Castle

The first year of your infant's life is one of the most important. It's packed with memories that they're too young to remember and milestones that you could be too tired to appreciate fully. After all, caring for an infant is a rough job task sometimes, but you don't want to forget it and have nothing to look back on! You can save the significant moments in any number of ways, but we liked this collage castle since castles are such a major part of Disney tales.
8) Dumbo Bank

Elephants are a standard decoration in many nurseries since many have cute baby elephant decorations, baby blankets, and more. That makes Dumbo an ideal character for a Disney nursery since he's an elephant and a character that appeals to both genders. You can even get Dumbo decorations like this bank that can become keepsakes as they get older and begin using them to save money. Until then, it'll be an adorable Disney elephant decoration that you can put in an elephant-and-Disney-themed nursery.
9) Mural

Murals are popular ideas for nurseries, but few people have the artistic skill or money to design, paint, or hire somebody to paint a mural. We found a timelapse so that you can see how to make a Disney mural; this way, all you need to do is copy it. The nice thing about creating a cartoon mural is that cartoons don't need shading, so they're easier to paint than real images, and it's easy to find pictures to copy.
10) Bambi Decals
Bambi is an innocent faun, the perfect symbol for the start of your child's life. He's an infant prince, valued by the creatures of the forest the same way you love and cherish your little boy or girl. If you want an adorable and nature-loving nursery, then Bambi decals and decorations will help create a natural woodland Disney room. This helps promote natural intelligence and a love of nature for your child as they grow older, and Bambi is adorable to older children, so you won't have to change the decorations as soon.
11) Storybook

Disney has a broad collection of stories, from fairytale books to animated movies and more. They're all about tales and lessons, and you can show your child the lost art of storytelling while introducing the wonder of books through a storybook theme. Try adding common phrases like this "Once Upon a Time" decal, along with images of open books, words floating across space, and other decorations that show bits and pieces of books. You can even create storyboards by telling a story with pictures across a wall or shelf.
12) DIY Crochet

Children often cherish homemade decorations for their entire lifetime. These decorations and belongings have special meaning since they came not from a factory but from the people we love. If you don't think you know enough to craft decorations for your baby, crocheting is one of the easiest crafts to learn. Instead of trying to knit or sew, you can learn some basic crocheting and use patterns like these Disney crochet patterns to make decorations for your nursery.
13) Honey Pots Growth Chart

Parents like to keep track of their child's growth, whether it's in the form of milestones as they learn to crawl, walk, and talk or in the form of physical growth. Height charts are a common way to keep a permanent record of your child's growth, so we found a Disney one that you can put in your nursery right away. This one is a peel and stick decoration with Pooh holding honey pots beside it. The best thing is that it's only one piece, so you don't have to spend hours placing dozens of tiny stickers.
14) Pooh Diaper Stacker

While it might be fun to focus on the crib and the cute decorations, you'll want to think about the practical aspects of your nursery, too. The most important piece of furniture next to the crib will be your changing table, so you'll want to find some Disney decorations or organizers for it. For example, you could use this clever Winnie the Pooh diaper stacker. If puns amuse you, you might enjoy having a diaper holder with Pooh on it.
15) Gender-Neutral Disneyland Theme

If you've been to the Magic Kingdom or any of the Disney theme parks, you probably want to include pieces of that experience rather than just basing the decorations on the show. If you like the idea of a Disneyland nursery, you could use this article as inspiration to design a Disneyland nursery. The neat thing is that it's gender-neutral, so you can decorate a nursery like the one in the article whether you're having a boy, a girl, or don't even know which yet.
16) Never Grow Up

If there's any Disney story or character that captures the wonder of childhood, it's probably Peter Pan. In the setting, Neverland, children never have to grow up, so if you want to capture a bit of that magic for you and your baby, you can get decorations like this that say "Never Grow Up." This piece is a decal that'll take up a whole wall, making the perfect centerpiece for the room and creating a Neverland theme.
17) Ice Theme

Not too long ago, children all over the country were obsessed with the movie Frozen. Elsa merchandise was everywhere, and many children still have their Frozen posters and backpacks. Disney also has Olaf, Disney on ice, and more, so if you like winter, you can create an icy Disney theme by mixing Olaf, Frozen, and more together. Take a look at this nursery by Alexandrea Hayes to see how you can create an icy Disney nursery.
18) The Lion King Tree Decal

The Lion King is a favorite Disney movie for many and has been for decades. You probably grew up watching it and want your child to experience the same thing, so adding some The Lion King decorations to the nursery is a must. Try adding something like this tree decal with Simba, Pumbaa, and Timon standing next to it since trees are a lovely way to fill an area with natural scenery, even if this is a cartoon version. 
19) DIY Growth Chart With Ride Heights

Growth charts are a significant part of growing up since they let us measure the milestones in our child's life as they grow taller and older. There are so many versions of growth charts out there, from notches in a door frame to decorative decals. If you want something very unique, try making a custom Disneyland growth chart using this tutorial. You can even put ride height requirements on it like Becca from Love Our Crazy Life did!
20) Mickey Milestone Blanket

Disney has had many milestones as it grew bigger over the years and influenced more and more lives, and your child will have many milestones, as well. Those milestones can be measured in months rather than years at this age, so a milestone blanket is a wonderful way to keep track as they grow and reach those pints in their young life. Since Mickey Mouse was an important milestone for Disney, a Mickey Mouse blanket like this would be an appropriate way to track your baby's milestones in his or her Disney nursery.
21) It's a Small World

It's a Small World! If you've been to Disneyland, you've probably been on the "It's a Small World" ride. It's an iconic ride known to Disney fans and non-Disney fans around the world, so it'd make a wonderful nursery theme. You can even watch this video by Pixie Dust & Parenting to learn how they designed an "It's a Small World" nursery for their two little girls. Their nursery has a beautiful blend of personal memories and ride-based decorations, and you can create something similar for your little girl or boy.
22) Sketches

If you love Disney cartoons, then cartoon sketches are a unique way to show that without using bright and gaudy colors. For a gender-neutral and tasteful nursery, try getting prints of sketches like the ones Heather Fern has on her nursery walls. This nursery has a more elegant look than most, and the classic Disney sketches only add to the effect. The nice thing about this is that you could turn this room into a child's bedroom as your baby grows older since it doesn't have any gaudy decorations that would only work for an infant.
23) My Little Mermaid

My Little Mermaid is an underrated film, and a lot of children love it. It combines a natural love of fantastical creatures like mermaids with the fascination that ancient legends bring to give is a Disney tale so many people love. You can get My Little Mermaid decorations like this mobile for a little girl's Disney Princess nursery or create an entire nursery with a My Little Mermaid theme! Try adding aquatic decorations and blue walls for a mermaid or underwater theme or pink walls for a princess theme.
24) The Lion King Mobile

The Lion King is a beautiful tale of love and loss in which a cub is able to overcome all odds. It's an inspirational story for any young child, and if you love the idea of your baby growing up around bits and pieces of that story, you could add touches of The Lion King decor to the nursery. You could even make a Lion King-themed nursery! To start, you can get things like this Simba mobile that attaches to a crib so that you don't have to do any drilling to hang it from the ceiling. 
25) Retro Disneyland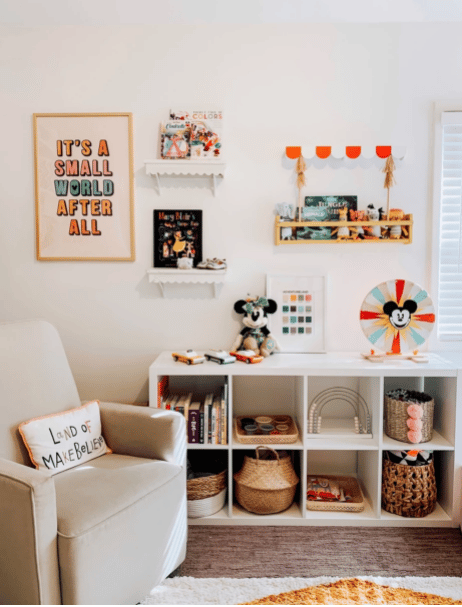 Disney is an old corporation, and its stories and characters have existed for a long time. It's the sort of legacy that your parents might have enjoyed just as you and your child will, but it's changed over time. If you want to create a connection between the generations of your family who've loved Disney, a retro Disneyland nursery like this one from Mallory Erin Makes would be an excellent way to keep that legacy alive and pay homage to the past.
26) Eeyore

A lot of young adults nowadays probably identify with the sad and gloomy Eyore from Winnie the Pooh, but what does he really teach us? Eeyore is sad, but he's always included with the group, and he's still a worthwhile character. This can be a valuable lesson to teach your children, and you'll want to make sure that you include Eyore just like Winnie the Pooh does. For example, you could get an Eeyore stuffed animal like this that could very well become your baby's favorite stuffed animal.
27) Dumbo

Dumbo, like other elephants, is cute and appeals to babies and children alike. Elephants are common in nurseries, so there's no reason why they can't be a theme in your Disney nursery. One problem with Dumbo decor is that a lot of children do outgrow him, but you can solve this by getting Dumbo designs on things that you'll need to replace anyway, like these Dumbo bedding sets that'll only be good while they're still in a crib.
28) Monsters Inc.

Almost everybody, Disney fan or not, has watched Monsters Inc. It's the perfect blend of scary and cute, with plenty of fun in between, and kids nowadays love it as much as they did when you first watched it. If you love that movie, you can use it to create a vibrant nursery with all the colors of the rainbow! Try using some of Colleen's tips and tricks for building a thematic baby room. You can also mix some of these ideas with Monsters Inc. decorations for a mishmash nursery.
29) Minnie On a Cloud

Minnie and Mickey Mouse are iconic Disney and some of the oldest Disney characters. If you're a classic fan and love Mickey and Minnie Mouse, you can create a dreamy Disney nursery with things like these Minnie Mouse decals. In the decal, she's sleeping on a cloud, cozy and sleepy, just like your baby should be. The neat thing about this one is that the stars come up from a single point, so you could make it look like they're coming from your child's crib or spewing from Dumbo's nose.
30) Realistic

If you want to do something unique that'll set your nursery apart from all the other cartoon nurseries, you can use realistic images of things found in Disney movies. For example, you could use a painted teapot as a decoration or get safari prints like these that have animals found in The Lion King. This adds different textures to the room so your baby will see something other than two-dimensional cartoon characters. What other Disney movies and shows have real-life equivalents?
Did any of these ideas appeal to you? Everybody has different Disney memories, and we'd love to hear which ones you're sharing with your infant! Tell us about it in the comments below.