That concrete porch is looking worn and dull. Maybe you liked the concrete when you first put it in, or perhaps you hated it, but now it needs to go. The floor is worn and chipped, but you can't afford to replace it, or replacing it's too drastic a measure. That's okay; you can use these concrete porch floor covering ideas to hide that unsightly concrete.
1) ​​​​DIY Stain
If the concrete itself isn't damaged, you can change the look a lot with this simple DIY project. Just stain the concrete porch floor using this tutorial. You can pick any color you want, but be aware that the stain is acidic. Use proper personal protective equipment (PPE) to avoid lung damage from breathing in fumes. Protective gear is particularly important if you're using a garden sprayer like the one in the tutorial. You also don't want to bend down over your work while applying it. It's never a bad idea to hire a professional when using acid, either.
2) ​Herringbone Mosaic
Herringbone patterns are an excellent way to improve the look of your concrete porch. With these mosaic tiles from Amazon, it's easy to replicate the classic herringbone look. They're worn to an antique finish that'll look great on a covered or uncovered porch since the travertine it's made of is durable enough for outside use. The antique finish is appropriate for a classic design like herringbone, and it'll match a traditional or brown colored house.
3) ​​​​DIY Flagstones
Flagstones are another way to cover up unattractive concrete. They look incredible, and they'll completely cover any damaged concrete. One great thing about flagstone tiles is that they can be laid directly over concrete, and you can use them to cover the space under your door, as shown in the video. You can wrap these over the edge of the porch to cover the sides and floor so that the entire porch will look good
4) ​​​DIY Paint It
If your concrete porch floor isn't severely damaged, and you want a simple way to cover it up, a coating of paint may work well. The paint covers more blemishes than stain, and you can pick from a variety of colors. If your concrete is slippery, anti-slip paint will get rid of that problem, too.  In this article, Ashley from At Home With Ashley explains how you can paint your concrete porch to revitalize it and cover up that ugly concrete.
5) ​​​​​Interlocking Wood Tiles
Interlocking tiles are a neat permanent or temporary covering. These tiles from Amazon are simple to install, and you can take them off if you change your mind. They're designed to breathe over concrete, so there'll be plenty of drainage. Since they're made from durable wood, they can look nice on either a covered or uncovered porch, and the wood design is a significant change from the dull grey you're covering up. Make sure to treat them with a wood preservative or wood oil a couple of times each year to keep them in good shape.
6) ​​​Wood Boards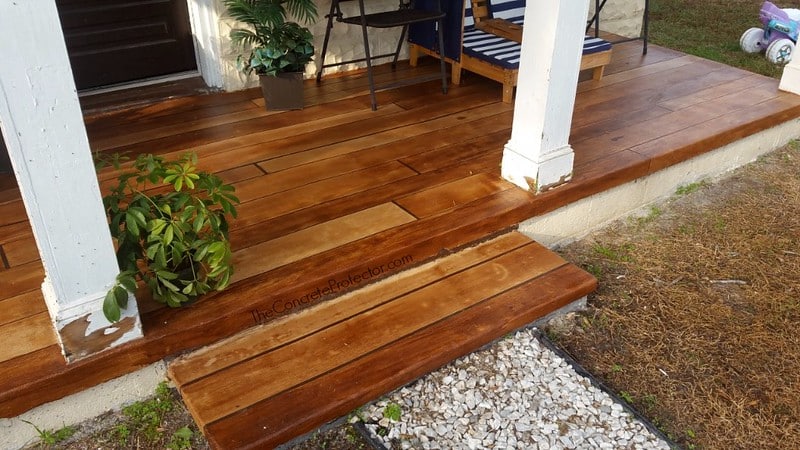 If you're looking for a natural look, there's nothing more natural than a wood porch. While you don't have one of those, you can still make your concrete porch look like wood by putting wood boards over it like the designer of the porch in this picture. The porch floor looks like solid wood, because it is, though you can see concrete underneath. Try to cover any concrete with landscaping such as landscaping rock or tall flowers so that the porch will look more like a wood porch.
7) ​​​Wood and Concrete Paint
If you choose to cover your porch with paint, you may run into one problem; the whole porch isn't concrete. There's probably a wood rail that you need to paint around. If you want the concrete and the wood to match, get paint like this from The Home Depot. This paint is designed for porch and patios and can cover either wood or concrete, so you won't have to buy two cans of paint and hope the colors match.
8) ​​​​​​​DIY Anti-Slip Coatings
Concrete porches can be slippery. If you're looking for a covering because the concrete is too slippery when it's wet, try some of the ideas in this article. The article by Angela Ryczkowski describes methods for making concrete less slick, whether you're building a new concrete porch or trying to make the existing concrete safer to walk on. If you cover the porch with tile or paint first, consider using a clear anti-slip coating over it.
9) DIY Tile
Tile is a durable and attractive floor choice; that's why we use it in bathrooms and kitchens, or in basements where the floor might get wet. This durability is also what makes it an excellent choice for an outdoor application. You can even install tile directly on the concrete sometimes. Lee Wallender, with The Spruce, goes over some of the factors that'll affect whether you need underlayment to install this flooring over your concrete porch floor.
10) ​​​Island Pebbles
Tile is an excellent way to cover a concrete porch, but there are many patterns to pick. This pattern is unique because it's not just a single tile. Instead, it's a collection of pebbles on a mesh screen that looks like gravel. The "Island Pebbles" design is perfect for a back porch that leads to a pool; it's even designed to be comfortable for bare feet. If you don't have a pool, it's a beautiful design that resembles landscaping rock, and it'd go well in a beach-themed house.
11) ​​DIY Peel-and-Stick
Peel and stick tiles are by far the easiest for amateurs to install. You should consider this option if you don't have a lot of experience with laying tiles. It won't hold up as well as ceramic or stone tiles, but it should work well on a covered or screened-in porch. If you don't have a covered porch, you can try peel-and-stick tiles, but you should use protective coatings and be aware that you might have to replace them more often. Still, it's much cheaper than hiring a contractor.
12) ​​​DIY Wrap Edge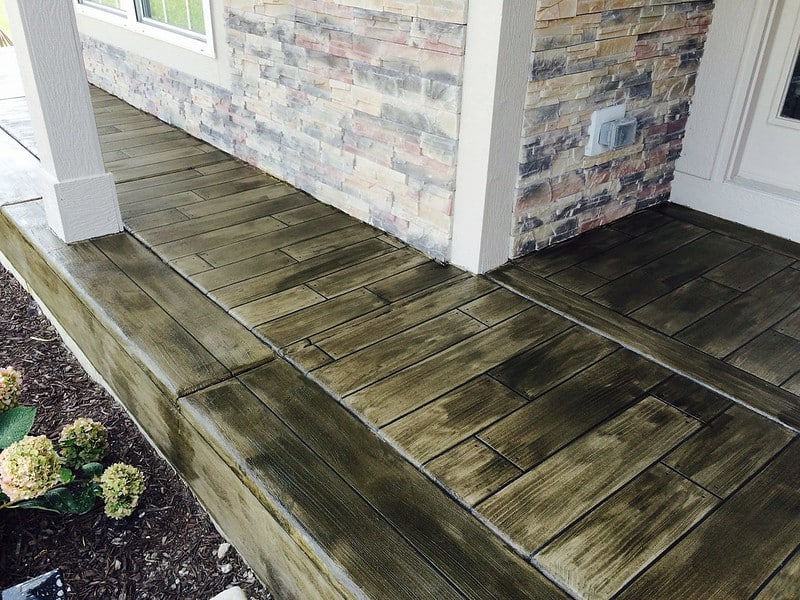 No matter what covering you choose, you'll want to cover more than just the floor. To do so, wrap the covering over the porch edge, like this porch's designer did with these wood planks. Doing this will help the floor covering blend in better, and conceal more concrete. If you aren't using stone or brick, you probably don't want the floor covering to reach all the way to the ground, so use flowers, garden beds, and other landscaping features to draw the eye away from the lowest edge of the covering.
13) ​Acacia Hardwood Interlocking Tile
Interlocking floor tiles are often good do-it-yourself projects, as they're easier to work with than regular tiles or wood flooring. They fit together, and you can take them apart easily if you dislike the design. These acacia hardwood interlocking tiles have oils that make them more weather-resistant than most wood tiles, so they're great for covering up a concrete porch. They're even waterproof enough to use as a shower mat or doormat. With these, your porch will look like a wood interior, and you can set up indoor/outdoor furniture to complete the effect.
14) Tuscan Tile
If you want to cover every inch of the concrete porch, including not only the floor but the sides down to the ground, try a Tuscan Tile overlay like this. This design is a custom-made overlay, so you can ensure that the entire porch is covered, and it only requires a thin coating of material over the existing concrete. You'll need a contractor for this, but the result is a seamless and gorgeous porch design that no longer looks like concrete.
15) Vintage Wood Tiles
Vintage wood tiles are an attractive porch covering. These particular tiles are for both floors and walls so that you can install one or two rows of tiles on the house, plus a few rows of tiles trailing down the side of the porch. Doing so will blend the porch floor into the existing walls and cover the concrete on the sides of the porch. This vintage wood look has hints of several earth tones, so it'll go with most rustic homes, and the light color means you can choose almost any rustic or vintage decor to go with it.
Did we miss any neat floor covering ideas? Every porch is different, and we'd love to hear what you do with yours! Please let us know in the comments below.