Your concrete porch isn't really what you want, and those concrete steps, you're probably not sure what to do about them. Or, maybe you're adding new concrete steps to match the porch, but you're not sure how to make them look good. These concrete porch step ideas will help you design an attractive set of stairs you'll be happy to see when you come home.
1) ​​​​​DIY Pallet Wood Letters
One way to decorate concrete steps to look nice is to add pallet wood letters to them. Use this tutorial to make a letter with your last initial, or even your full set of initials, and place it on the stairs. The pallet wood will create a rustic look that will match the bare concrete while making it look nice. You can paint the wood letter in your favorite color, or make it the same color as the house siding or trim.
2) ​​Bricks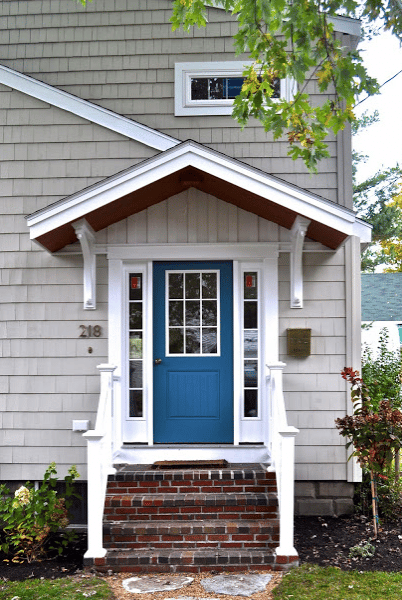 If you're not a fan of the concrete look, you can cover it up with another material. Bricks are an attractive choice because they'll probably go with any decor you have that matches the concrete. This way, you don't have to replace a lot of decorations and porch furniture, and you can cover the ugly concrete with colorful brick, as Laurel at SoPo Cottage did with the steps in this photograph. Read through Laurel's article for some ideas for the area around your brick-covered concrete porch.
3) ​​​​​DIY Paint
One fast, simple, and easy way to transform your concrete steps is to paint them. In this video, The Fixer shows you how to repair and paint your concrete steps. The repairs are necessary because the paint won't cover holes in concrete, and you want the porch to look like it never had and chips or damage. Make sure to clean any moss and dirt off the porch thoroughly, as The Fixer does in the video since the paint should be adhering to clean concrete only.
4) ​​​​DIY Mason Jar Luminary
This do-it-yourself project will literally make your steps shine. In this tutorial, Heather from Daily DIY Life gives step-by-step instructions on making luminaries, which are small groups of lights designed to highlight something. In this case, the luminaries made from mason jars will light up your steps. The mason jars have a minimalist look that fits with the concrete steps, but the decorations on the luminaries, and the lights you put inside, will make the steps look beautiful.
5) ​​​​​​Decorative Step Inserts
If you're pouring new concrete steps to match your concrete porch, or simply because they seem like the most practical and durable choice, plan ahead to make them look nice. These decorative inserts from Amazon will make the border of each step look nice by adding texture. This way, the concrete itself will look better than the plain rectangular block you were probably imagining. You can accent this by painting the textures areas to match the house, or coating them with glow-in-the-dark paint so that nobody trips on the front steps.
6) ​​​​DIY Resurface
If your concrete front porch steps are chipped, cracked, or otherwise damaged, you don't want to do anything to them until you've repaired them completely. Watch this video to learn how to repair concrete steps and resurface them so that they look nice enough to be on a front porch. Since you're fixing and resurfacing them all at once, you might not need to do anything else to make them look okay, and keep guests from falling on slippery concrete.
7) ​​​​Flowers and Greenery
Concrete can look dull and industrial. If you want your porch to look lively and, well, alive, try adding some greenery to make the steps look more like the ones in this photo. Pick your greenery carefully, because you don't want long trailing vines that could trip people. Choose low-maintenance plants that will do well in pots without outgrowing them, and make sure to choose something you like! You can use green plants, colorful flowers, or even vegetables or fruits.
8) ​​​​​​​​Clear Traction Tape
Concrete steps can be a hazard, and your front porch needs to be safe for visitors. Unlike a back porch, your front porch can see traffic from delivery truck drivers, neighbors, Jehovah's Witnesses, and more. You want a variety of people to be able to walk up the steps safely, and adding traction tape is a simple, cheap, and effective way of keeping people from slipping on the steps. This traction tape from Amazon is clear so that it won't affect the steps' appearance at all.
9) Gate
If your steps are a hazard, or if you prefer to be cautious, since concrete steps are one of the more painful things to fall one, consider adding a gate like the one in this picture. BY installing a gate at the top of the stairs, you restrict access to your porch and lower the chances that people will slip on it and fall down. You can use the gate as a decoration by painting it to match your house trim, or by painting it a color that will stand out.
10) ​​​​Cover With Wood
Covering your concrete steps with wood is one way to make them look pretty without a lot of work. While it takes more effort than painting them, you can use this video as a guide to cover the steps completely, then build wood steps. This way, the porch and stairs are in the locations you want them, and they're made from a material you like. You'll basically be building a new porch over your old one to cover up the ugly or hazardous stairs.
11) ​Cement Art
If you don't want to get rid of the cement completely, you need some ways to make your decor match and enhance it. One way to embrace your concrete steps, figuratively speaking, is to place little pieces of cement art on the side of each stair. This concrete turtle from The Home Depot is adorable, and it connects concrete to nature to make your steps seem less industrial. Add other similar decorations, like cement bunnies and fauns, so complete the woodland theme.
12) ​​​​DIY Install Railings
Since concrete steps can be dangerous, railings are essential if you don't have them. They make the steps safer and better-looking. Use the same material and style that your porch has so that the steps will blend into the porch and look good. This is important if your front porch is highly visible to people passing by. Use this video tutorial to attach vinyl railings correctly, so your steps will be safe. If your porch has metal railings, you can probably find vinyl that looks similar but costs much less.
13) ​​Fix Slippery Steps
Slippery steps are often a problem with concrete porches. Concrete with a smooth finish will be slippery when dry, and even more after a rain shower or snowstorm. You don't want your guests to slip on the way up, and if anybody in your house is elderly or clumsy, this becomes even more important. This article includes several ways to fix slippery steps, so you can pick the method that works for your porch stairs.
14) Glow-In-The-Dark Traction Tape
Traction tape is a simple and easy way to keep visitors from slipping on their way up your front porch steps, but it can do more than just keep people from losing traction. While it's less attractive than clear tape, this glow-in-the-dark tape from Amazon will make each step visible to people walking up your steps in the dark. Making steps more visible is essential if you have visitors who aren't familiar with your house, to keep them from hitting their shins.
15) Step Lights
Adding lights to your concrete steps makes them more attractive at night, and lights them up so unfamiliar visitors can see the steps as they go up. Since these step lights from Amazon are solar-powered, all you have to do is place them on the steps, then let them light the way at night. While they won't look great during the day, they'll keep people safe at night, so you don't have to worry about injuries or lawsuits.
How would you transform your concrete steps? Did you like any of our ideas? Please let us know in the comments below!