You're just arriving home from some grocery shopping, and you slow down as you get to your house. You scan the front yard, with the freshly cut grass and yard decorations or plants, but your eyes are drawn to the front porch. Frankly, it's an eyesore, and you need some concrete front porch ideas to fix it up and make it something you can admire from the road.
1) ​​​Stamped Concrete
If you're pouring a new concrete porch, you're probably doing it for durability, not because you love the bare concrete's appearance. Either way, you'll want a nice-looking front porch, since it's the first thing people see when you invite them into your home. Stamping concrete is an excellent way to make it look more appealing, and you can later paint the stamped concrete to make it look even better. This isn't a do-it-yourself project, though. Chris Sullivan describes a variety of reasons why you should leave stamping to professionals. This is more true on a front porch.
2) Bright Outdoor Rug
Your front porch is one of the first things people see when they go to your house, and you don't want it to look bare, as concrete often does. If you aren't looking for expensive renovation and lengthy do-it-yourself projects, a simple outdoor rug can make a big difference. This bright outdoor rug will soften the concrete, so you can sit or stand on your porch more comfortably. The bright color may be visible from the road, and improve the overall look of the front porch and yard.
3) ​​​​DIY Stone Look Tile
In some ways, concrete is like an uglier version of stone, and you really want your front porch to be beautiful. Watch this video by Hugo Correa to learn how to set tiles over concrete, and make your porch look like it's covered in stone instead of concrete. Match the stone to your house color and add decorations in a similar color stone to match it. You'll need a tile saw for this, so if you don't have one, you'll need to buy one and learn to use it. You can also hire a contractor to do this.
4) ​​​​DIY Paint It
A simple way to transform your front porch is to paint it. You can do the painting yourself and save the cost of a contractor by following this tutorial. Since you are using this paint outdoors, you'll want an anti-slip paint that matches your house or trim. You can get paints that work on both wood and concrete if you're going to paint your whole porch, or if you have a few odd wooden parts you want to paint the same color.
5) ​​​​​Clear Coatings
If your porch already has a nice tile design or paint, and you're thinking about changing it because it's too slippery, or because it's not durable enough, consider using clear coatings instead. These coatings go over concrete, over existing paint, or over any new paint you put down. This Tracsafe coating is anti-slip, so you'll have a durable and safe surface, no matter what material you choose for your porch. This way, you don't have to design your porch's appearance solely based on what is most durable and practical.
6) ​​Decorative Brick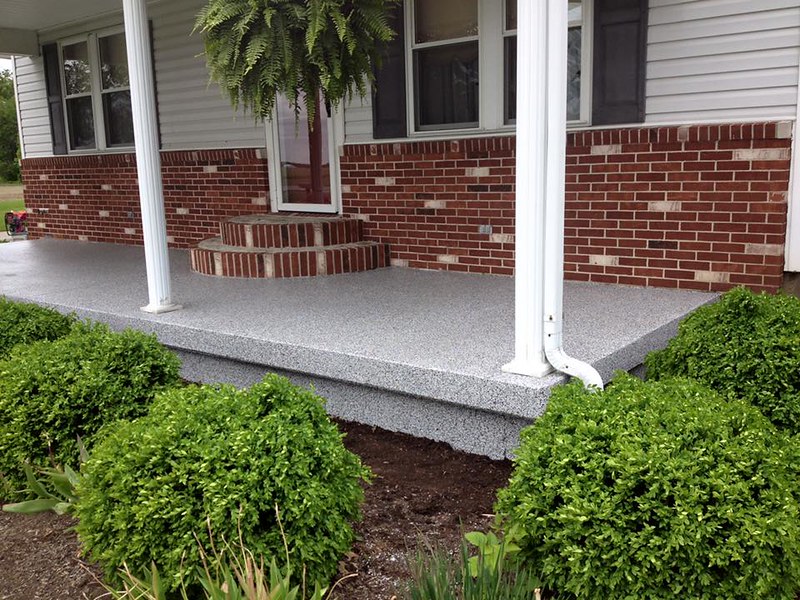 Sometimes what your concrete front porch needs isn't more paint or decoration for the concrete itself. You can improve the look of your porch without losing the durability of the concrete by adding decorations to the outside walls of your house. The brick decoration in this picture complements the concrete, but the bright color of the brick and the round step design give the whole porch a bright and clean look. You can paint the concrete or leave it bare.
7) ​​​DIY Acid Stain
People often use acid staining to finish concrete. The acid leaves the floor looking good, and you can pick from a variety of different colors. Since you'll be working with acid, it's not a bad idea to hire a professional. Otherwise, make sure to use the proper sprayer and protective equipment so you don't breath in acid or get it on your skin. Acid is the most effective way to stain concrete, since the acid helps the stain embed in the concrete.
8) ​DIY Level It!
If your front porch is uneven, you probably already know it, and so do your neighbors and anybody driving by. It might even be the reason you're looking for ideas to improve it. Even if your porch is only slightly uneven, you don't want to do a lot of renovating and redecorating without correcting the floor first. If you need to level your porch, watch this DIY video to learn how to do so without redoing everything. You'll have a better-looking surface, and you can paint it to cover up the spots you ground or resurfaced.
9) ​​​​​​Brick or Stone Sides
One way to improve a concrete front porch is to make it look more like natural stone and less like manufactured concrete. While you can paint and decorate the floor in many ways, these won't have much effect unless you also decorate the sides, like the owner of the porch in this photo did. If your porch doesn't have stone underneath, you can still create this effect using brick or stone overlay. You can even leave the top concrete bare and decorate the sides of the porch instead. This will be more visible form the road than the top will.
10) ​​​​​Cold Gold
If you're just looking for a way to refinish your concrete porch to make it eye-catching, try getting a resurfacing kit like this one from The Home Depot. You can use this kit to protect your porch floor from wear, and the bright flecks of gold will catch sunlight. This will make your front porch floor look like tile, which is more attractive than bare concrete, and the bright colors will be visible to anybody approaching your house. Gold is a great first impression to make when people come to visit.
11) ​​​Scrollwork Stair Treads
Concrete can be slippery, and painting it or covering it with tile may not be enough to keep people from slipping on the porch stairs. While there are many ways to create traction, most of them aren't the most attractive, and you might not want them on a front porch. These scrollwork stair treads are designed to look good while also providing grip for people walking up the stairs. This will keep people safe without taking away from the appearance of your front porch.
12) ​​​Brick Edge
The top of your front porch can be covered by tiles or carpets, but the edges also need to be covered. One way people do this is by covering the sides with brick, like in this photograph. In this case, the perimeter is covered in bricks that extend the porch a little bit. This adds a little color to an otherwise grey porch, and the bricks on the sides look good from the road or yard. You can also use brick facing or half bricks to save money, though it may not be as attractive.
13) ​​​​​DIY Stone Pattern Bench
If you aren't changing the color of your concrete front porch, you'll need furniture that matches the grey concrete. These bench ends from Amazon look like stone, but they're lighter to carry. You can make the seat any size, so if your front porch is small, you can still have a shorter bench. Add wood planks of the right size, and stain or paint them to match your siding. This way, your decorations and seating will look good and match both the concrete and the house.
14) Stone Edge
Instead of covering up the concrete, show it off. Use darker grey accents like the stone in this picture to highlight the grey color and improve the look. You can also use the dark grey bricks for the taller parts of your porch, the way the designer of this porch did with red bricks. If the natural concrete is uneven in color, you'll need to paint it first. Make sure to make it a lighter color than the grey of the bricks.
What ideas have you tried on your front porch? Do you have an idea we should've included? Tell us about it in the comments below!