Just because you have low ceilings in your basement, it doesn't mean that the lighting options for your basement have to be limited. In fact, you'll find that you have almost as many options as any room in the house.  If you're thinking about installing more lights in your basement ceiling, or if you are just looking to change up the lighting you have, take a minute to review our list of Basement Lighting Ideas for Low Ceilings.
1) String Lights
The easiest way to add more light to any area is to use string lighting. String lights can be easily hung from a low ceiling of exposed floor joists with screw in hooks, or to a finished ceiling with the addition of drywall anchors. Some string lights come with built in switches and dimmers that will allow the lights to be switched on or off without having to be unplugged.
2) Lose the Pullstring
A lot of unfinished basements will typically have one light that turns on with a wall switch at the basement door. Any lights further in the basement are most often activated by a pull string.  If all of your basement lights are on the same circuit, setting them to the wall switch might be as easy as changing the path of the splice in each fixture. Check out this quick video for more details.
3) Spin Light LEDs
If your low basement ceiling has traditional screw in incandescent light fixtures, then you are well aware that the exposed glass bulbs hanging from those fixtures can be easily hit and shattered with a stray tool handle. You can replace those old hanging bulbs with LED retrofit ceiling light fixtures. These light fixtures will not only last longer; they are sturdier, use less power, and don't hang as low as incandescent bulbs.
4) LED Shop Lights
Only a slight bit harder to install than string lights, LED Shop Lights provide a lot of illumination.  Long lasting and energy efficient, LED do not emit as much heat as incandescent lights, which is ideal for a low ceiling. They can be purchased individually or in multipacks at most home improvement stores or by clicking here.
5) How To Install LED Shop Lights
Hanging LED Shop Lights is an easy DIY project. They will attach directly to the ceiling or from a chain, allowing you to adjust how low you want them to hang. Even better, most models will include connecting cords, so multiple fixtures can be connected together allowing them all to be turned on and off from the same switch. Watch the video to learn how easy shop lights are to install.
6) ROMEX© vs Conduit
If you are planning on installing more lights in your low basement ceiling, you might have to add more wiring.  As with most home improvement projects, you will want to find out about building codes in your area. Some areas will allow you to add wiring to a basement using ROMEX©, other areas require the installation of new conduit. To find out more about these two options, click here.
7) Wiring an Unfinished Basement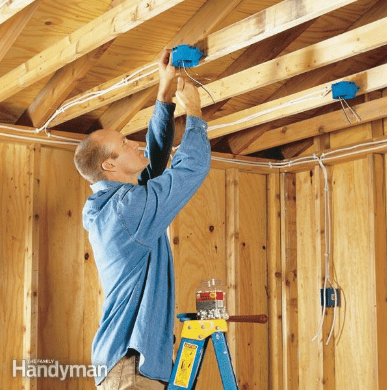 If your basement is unfinished, adding wiring for new lights will be easier. Since the ceiling is exposed, you will have more options on where to attach wiring. Here is a detailed article to help get you started, and remember, always turn off any power before attempting an electrical project!
8) Fishing Wire Through Finished Ceilings
If the ceiling and walls in your basement are finished with drywall, running new wire behind the drywall can still be done, but it will require a little more work and patience. One option is to completely remove the drywall in areas where you are running new wire. Another option is to only cut the drywall in the sections where you'll be adding new lights and fishing wire through to them.
9) Recessed Lights
Of course when you have a finished low basement ceiling, the best idea is to install recessed lights into the drywall of the ceiling. Recessed lights will sit flush with the drywall (or at least almost flush), which will give more head clearance when moving around in your basement.  Recessed Can Lights are one option and be purchased at Amazon.
10) How to Install Recessed Lights
Installing recessed lighting can be a DIY project if you are comfortable with working with wires and electricity. Of course, if you are not comfortable with electrical work, hiring an electrician or contractor is ideal if this is the route you want to take. If you are only installing a few lights, the project can be done with a little time and the right tools. The video will show you one way to do it.
11) Flat Panel Lights
Another type of recessed lights are flat panel LED lights. If your basement ceiling is a tile grid, these lights come in square and rectangle shapes and can replace a tile in your grid. They can also be installed into a drywall ceiling using a method similar to installing other recessed lights.  Click here to start shopping for flat panel lighting options.
12) ​​Lighted Crown Molding
If you decide you don't want lights in your basement ceiling because it is so low, a valid option is to install crown molding with LED strip lights. This will add indirect light to your basement as the LED strips will sit inside of the molding and reflect the light off the walls and ceiling of your basement. Dimmable LED strips can be purchased to give you more control over your lighting.
13) ​​​How to Install Lighted Crown Molding
Lighted crown molding is easier to install than recessed lighting because it requires less drywall and wiring work. For that, you will only need to install one switch box that can be run from an existing light fixture or wall outlet. Next, install your molding along the walls near the ceiling and lay the LED strips in the channel along the top of the molding.
14) Tubular Skylights
If you want to increase the amount of natural light to your basement, you can use tubular skylights. Simply put, tubular skylights are narrow tunnels made of reflective material and covered at both ends that will channel light from the roof of your house to any room within the house. This is an extensive project, so you will probably want to hire a contractor. Click here to find out more about Tubular Skylights.
That wraps it up for our article on 14 Basement Lighting Ideas for Low Ceilings. Hopefully, we've given you a starting point for planning out any upcoming basement lighting projects. As with all home improvement projects, check your local building codes before you get started. Also, when working with electricity, for safety reasons, remember to make sure you turn the power off in the areas you are working.
What do you think?  Did we forget anything?  Leave us a comment and let us know!